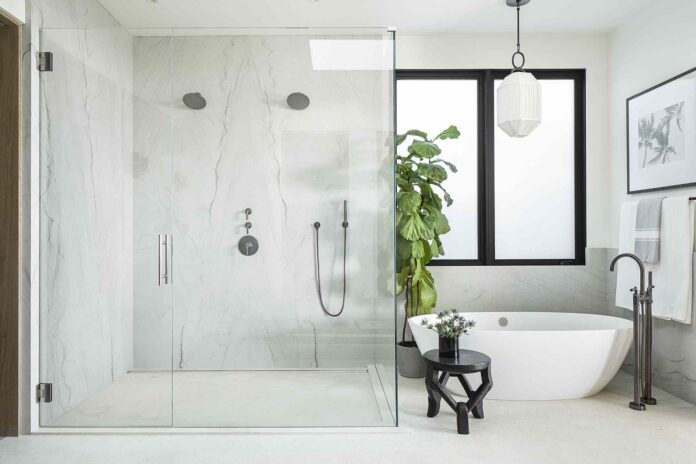 Having a showerhead in your bathroom is among the essential requirements in every homestead. However, having a double shower head is something else. A bathroom is among the busiest places in the house. You will want to freshen up when you wake up and after a tiresome day. However, when taking a bath, you deserve a calm and relaxing environment that will enable you to forget all the stress of the day, or when facing a new day, you need to start it with a cool attitude.
For these and more other reasons, you will require a 2-in-1 showerhead to give you maximum comfort in your body and mind. Besides, a double showerhead does not only make bathing a relaxing experience but fun too.
When searching for advanced shower devices in the market, you will realize that double showerhead are the latest trend and most advanced ones. Many modern stores have these incredible tools that will give your bathroom a brand new and exciting look while giving you the best showering experience. Have you tried using them before? What is your experience? Or are you want to get one? You can be sure this is the best decision you are about to make because of the following benefits.
What are the pros of using double showerheads?
Ease of use
As much as the double showerheads are sophisticated and trendy technologies that improve the bathing experience, they are absolutely easy to use. For instance, when using the single showerhead, it's quite strenuous showering some body parts. However, with double showerheads, you can adjust the settings and direct the water to specific body areas. This makes it possible to shower without turning and straining in the bathroom.
Good for disabled persons
Individuals that are disabled in one way or the other always find it hard to bathe comfortably as they have to strain a lot, especially when using a single showerhead. These people have restricted movements. However, with a double showerhead, they can adjust the settings to enable the water to reach different parts of the body while seated in one position. Besides, the ability of these double showerheads to spray water in a large area makes it possible to improve the whole shower experience.
Saves time
Double showerheads make it possible for two or more people to shower at once. If you have kids, it is possible to bathe them on the go while using the double showerheads, unlike when you have a single showerhead. Also, you can get into the bathroom with your better half and take a shower at the same time, instead of one individual taking a shower at a time.
Superior showering experience
Who doesn't like fancy, good, and comforting things in life? Well, that is exactly what a double showerhead provides! If you can, get one and make life worth enjoying.
Multipoint showering
With a double showerhead, it is possible to start showering on the body parts you prefer. Besides, you can adjust the two showerheads so that one is for gushing while the other is for massage stream. This will give you maximum comfort and satisfaction in your bathroom.
Conclusion
With all these benefits, do you still doubt if you need a double showerhead? Well, get one and enhance your bathroom experience.