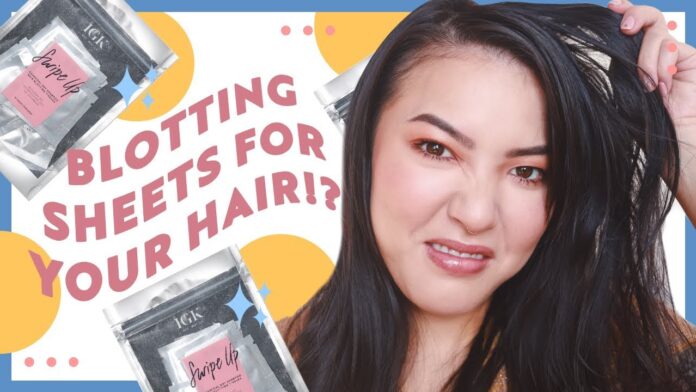 Pleasing-care blotting sheets have more than one function. Besides mitigating your face against oiliness, you can use it to set your makeup after laying your foundation, dab the sheets gently on your face to remove any lingering moisture, and help your makeup sit still for long. It works by creating a smooth finish without drying your makeup.
Also, it works perfectly well on your scalp. It uses the power of infused charcoal powder to remove greases without altering your hairstyle. The functionality fits your bill if you value the daily hair washing regime. Some days can get jam-packed, and you can quickly become short on time. When that happens, a dray shampoo might come into your thoughts.
But when you think of the after texture and debris left behind by a shampoo, you get skeptical. Fortunately, a blotting paper can save the day. It allows you to rest your hair from shampoos and the horrible residues it leaves behind. A few sheets of natural blotting paper suck oil and sweat and saturate moisture in the hair.
Therefore, instead of going the archaic way of dry shampoo container, try blotting sheets, and you a well on your way to benefiting from the following;
Enjoy a quick and fun way to restore vibrancy using natural blotting sheets with bamboo charcoal
Some beauty products don't deliver the claim. Instead, they leave you in a total mess, yet they promise to provide an exceptional experience. Blotting papers will never let you down. They absorb oil and moisture just as it does on the face. That way, you can be confident to flaunt a dry scalp much longer, and if you swear by washing, you can do it when time rich.
Long-term use can make the difference in adding volume to your hair. Frequent washing strips your hair of the essential oils. The reason why your hair looks dull, and you can't seem to explain why you have a dry, itchy scalp. Your hair needs a bit of oil to preserve luster.
Natural blotting sheets embrace natural ingredients that remove grime without damaging hair
When you let a substantial amount of time-lapse before shampooing your hair, you allow them to recover from shock and dryness. But in between, excess oil might build up. It is when blotting sheets come in handy to absorb grease giving you bonus days of new hair.
To remove sweat and oil from hair, all you need to do is rub the sheets on the scalp and roots to get most of the grime out. To be sure you are doing it the right way, check the color of the blotter. The darker it gets tells you to keep grinding. Finally, pat dry your hair with a towel before introducing the pad to get the most of the blotter.
Natural blotting papers with bamboo charcoal removes grease without the intervention of harsh products
Charcoal is a natural deodorizer that sucks odor and grease out of your hair. For this, rubbing the sheets on the scalp removes grime and smells naturally without the intervention of chemicals present in synthetic products. Rather than featuring powder and harmful chemicals found in shampoos, they leverage the ability to suck substances.
There is more to it; blotting sheets are safe to use even on delicate hairlines. Thanks to its ability to clean without using surfactants and other irritants that can sap essential oils from your scalp, leaving it dry.
Final remarks
Blotting papers are excellent for folks who hate washing their hair frequently. Two or three sheets are sufficient to suck sweats and grease from your scalp, and before you know it, you are on a trailblazer of several days with new hair. Again, they feature natural products that deodorize naturally, are biodegradable, and are relatively affordable.